HELLO MY LOVELIES!
So I was reminiscing about how much I miss being a kid, like I actually miss the days coming home from school and watching the old Disney Channel and Nickelodeon and being beyond excited for new episodes and films coming on! Yes I'm 19, and I've recently decided to re-watch EVERY SINGLE childhood TV show that brings me back to a time where life was just amazing.
Here are all the Disney/Nickelodeon shows that I re-watched and that give me #ALLTHEFEELS.
---
Hannah Montana
I couldn't NOT list this one. This was one of my favourite childhood shows – ever. I had the shirt as well as the lunchbox, and I saw the movie AT LEAST five times. This show made me laugh, cry and sing along with EVERY song Miley/Hannah sang – you get the best of both worlds.
And by the way, Miley, Lily and Oliver were just #squadgoals.
---
Wizards of Waverly Place
This show was right along side with Hannah Montana for me. I remember being so little watching this, and I thought that I could be a wizard like Alex. And who knew, Waverly place actually exists in New York!
---
The Suite Life of Zack and Cody
This show is still one of my favourites – I turn on Disney channel sometimes when those rare re-runs come on. I cried when they ended it, but then they did Suite Life on Deck, so that was kinda okay. Zack and Cody will forever be the best Disney twins ever! The Suite Life of Zack & Cody was perfect for too many reasons to count. Not only did it give you two cute twins for your teen self to crush on, but they were also living the dream life. As siblings who get to spend their days at the lavish Tipton Hotel because their mom is the lounge singer, you couldn't help but tune in every week to catch the Martin twins (played by Disney Channel royalty Dylan and Cole Sprouse) wreak havoc on the hotel with the help of their misfit family members who also live there. The show was so good, it got a spinoff where the twins got up to more mischief as always, only on a ship.
P.S: London will ALWAYS be my favourite character.
---
The Suite Life on Deck
This is probably the one and only Disney Channel spinoff that lived up to the original series, probably because it used the same exact formula as the original, just set on a cruise ship instead of in a hotel.
---
That's So Raven
This show is a classic – it might as well be renamed to "Everybody LOVES Raven". This show made my childhood a lot happier – and funnier! Raven Symoné is still one of my favourite actresses – AND IT'S COMING BACK (WITH DEVON)
---
Cory in the House
Even though That's So Raven fans were thrilled to see more of Raven's hilarious and mischievous little brother Cory Baxter after the series ended and his high-profile White House antics always kept you glued to the screen, Cory in the House just didn't grab you like That's so Raven did. But I watched it anyway, I HAD TO, I couldn't not watch the 'spin-off'.
---
Phil of the Future
Just imagine how painfully hard it would be to go back and try to fit in during the '90s, before cell phones and laptops and Instagram! Now you know how Disney Channel's original time traveler, Phil Diffy felt trying to act like he belonged in 2004, when he was actually from the super-advanced year of 2121. Can you even imagine not going crazy in such conditions? You'll totally relate now to Phil's futuristic struggle every time you parents make fun of your text-speak or your selfie addiction.
---
Lizzie McGuire
Lizzie McGuire was every girl living a normal life and feeling like the world was against you and not having anyone understand how amazing you totally ARE (except your small group of besties of course, which Lizzie had in her amazing friends Miranda and Gordo). Lizzie was the first Disney Channel show to get its own movie and thank goodness for that, since it surely paved the way for other Disney Channel originals like Hannah Montana and High School Musical to get their own movies too. Hilary Duff walked right into every teen girl's heart with her relatable portrayal of a normal girl with normal problems, but still managed to make every experience seem extraordinary (which is totally how you felt growing up). You can never get sick of rewatching this classic because it touches on basically every high school experience, from your first breakup (darn that mail boy that broke Lizzie's heart!) to being a total fangirl 100% of the time (*goes to rewatch classic Aaron Carter episode*).
---
Jonas L.A.
I was a HUGE fan of the Jonas Brothers – songs, concerts, movies, apparel – the whole nine yards. I still listen to "Burnin' Up" on iTunes radio when I feel like it – #FEELS. When they made a show (even though it was cancelled after two seasons), I watched every episode five or more times.
---
Sonny With a Chance
I remember watching this show because I had loved Camp Rock, and I was a big Demi Lovato fan at the time. This show was on towards the end of my Disney career, but I still loved and enjoyed it! This was Demi's "goodbye" to Disney Channel – she gave lots of laughs on this show.
---
Drake & Josh
"I've never thought that I'd be so simple but, I found a way I found a way" Seriously still watch this, who didn't love Helen and the crazy guy?! AND EVIL MEGAN (check out these theories on the Nickelodeon TV shows!)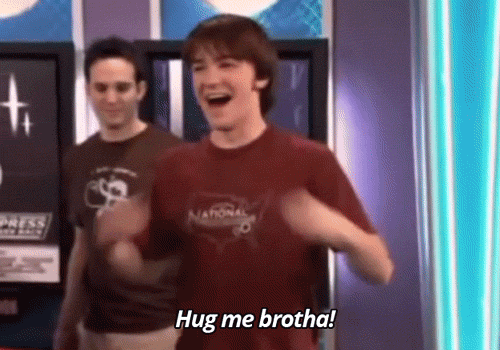 ---
H2O: Just Add Water
'Three ordinary girls discover an Island on Mako and a moon pool that turns them into extraordinary mermaids with special powers over water on the night of a full moon. They must never look in the moon's eye or there will be side effects for each of them'. THIS WAS AMAZINGGGGGGG, DON'T YOU JUST WANNA BE A MERMAID?? ON MAKO ISLAND?? IN AUSTRALIA??
---
Victorious
Victorious follows teen singing sensation Tori Vega (Victoria Justice) and a group of students at a performing arts high school. DIDN'T YOU JUST WANT TO GO THERE?? (you know, if you thought you have/had talent)
A bonus is Beck (played by Avan Jogia) is actually my cousin, yep. So gotta support the famalam 🙌🏽
I hope you guys enjoyed this blog post, don't forget to like and follow my blog! 💗
Have you seen any of the shows mentioned above? If so, which one(s)? Talk to me in the comments below! 🥰
DISCLAIMER
This blog is NOT sponsored and all opinions are my own.