HELLO MY LOVELIES!
SO IF YOU HAVEN'T HEARD OF RIVERDALE, LET ALONE WATCHED IT YET, THEN YOU'VE CLEARLY BEEN AWAY FROM HUMANITY AND THE INTERNET FOR TOO LONG. SERIOUSLY, IT'S EVERYWHERE. EVERYONE IS WATCHING IT! 😛
So like most people on the planet, I have Netflix; I've been done with mainstream free to air TV for a good 5 years. About 2 years ago, I got hooked on Netflix. I've watched a lot of shows in my short time on Netflix, from a range of different genres, and binge watched a majority. My tastes in TV vary greatly depending on my mood. 💁🏽
EVERYONE has been talking about Riverdale, and I begun to grow a little more curious. I don't know what I expected- perhaps a pretty-little liars and vampire diaries hybrid? – This so wasn't it.
Just before the finale of The Vampire Diaries, CW introduced us to Riverdale. It's based from the "Archie Comics" comic book. So, it follows main characters Archie Andrews, Jughead Jones, Betty Cooper and Veronica Lodge. Four teenagers who go to Riverdale High. We jump straight into it after their summer vacation when the town of Riverdale is grieving after the death of Jason Blossom, we learn that Jason and his twin Cheryl were rowing on Sweetwater River when the boat capsized and Jason drowned. However all is not as it seems. 😏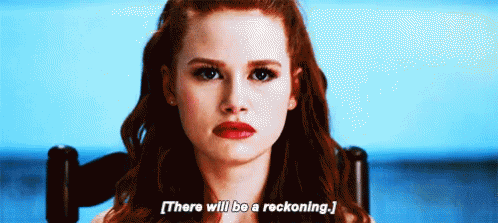 With each episode of Riverdale introducing new plots and twists for each and every character and each storyline thinkable, it can't help but suck the watcher in. You begin to invest in the characters and each week you're left with an intense cliff hanger which has you questioning everything you thought you knew about the Riverdale series up to that point. 😳
This American teen drama series takes place in a fictional town of the same name after the death of Jason Blossom, a member of Riverdale's most influential (read: rich, envied, and by some, hated) family. The series puts a modern spin on the characters created by Archie Comics, and mixes the genre of teen drama with just a hint of mystery.
Riverdale is that slightly trashy, somewhat over-the-top guilty pleasure that you know has its flaws, yet you somehow just can't stop watching. I don't know if it's the surprisingly likable characters, my desperation to find out "whodunnit", or the fact that I'm a sucker for an angsty teenage murder mystery, there is something about this show that has me hooked. 😍
I watched the first 5 episodes in one sitting, then had to wait while each episode came out. I was hooked. No, I AM hooked.
There's something about ambiguously attractive 20-somethings playing teenagers that has just snared my attention. The mystery that the story rotates around, at first, seems so cheesy it's not funny. But then three episodes in, it becomes obvious that this isn't what you thought.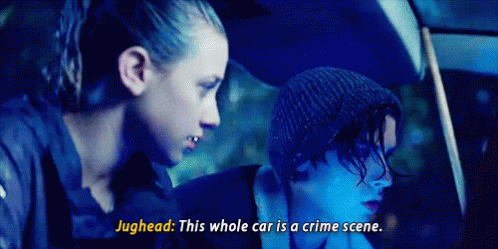 Like a lot of teen dramas (The Vampire Diaries, Pretty Little Liars, Gossip Girl), Riverdale gets a few kicks from debauchery, scandal, and sexiness. Which is weird when you think about how young the characters in all these shows are.
Even though it's a "high-schooly" type of show, with drama, it somehow dodges cringe-factors. It's an easy watch and the cast's chemistry is great, which is why I think each viewer gets invested. It also is quite a dark series. With lots of skeletons for each character and dark plot twists to the storyline. The acting is also very good, each actor or actress seems to fit each character! ☺️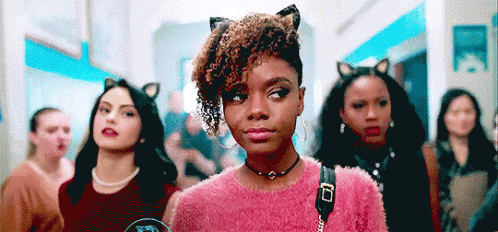 Now, I'm usually pretty good with who-dun-its. There's only really been a few that have really, deeply shocked me; and this damn show has been added to that list.
But, I'm getting ahead of myself… I don't want to spoil anything for anyone.
Because that's one of the best things about this show; it takes you for a ride. The mystery is bold, but intricately crafted. The plot points each episode are fresh, different in style, and keep the narrative spinning on. The whole series has excellent pace, and I cannot think that one second of it that dragged. 😃
Perhaps one of my favourite things was the use, and the play on colours.
SO. MUCH. BEAUTIFUL. COLOURS.
The highly saturated, definitely digitally enhanced, colours made the whole story velvet gold. The manipulation of colours in this way is clearly a nod back to the source material; the TV show is based off the old comic series Archie. But the colours also add a touch of modern-ness to this; the use of colour in this way reeks of current film trends, and the impact of the technique is so huge.
Colour helps to define characters and their motives. The Blossoms are shades of red, Betty is pink, Jughead and JP in blacks and greys (total opposites personality wise, and made to play off each other in the same hue), Archie in blues and reds (to highlight the two different Archie's employed by the show writers at particular points in the series) and so on. 💥
I liked that the show writers didn't force the show into the super long American standard episodes (in comparison to usually shorter model European and British shows use); had they done so, it definitely would have cheapened the show. The impact is in it's succinctness.
Now that season one has come to an end (I'm not crying, your crying!) I feel weirdly satisfied. I mean, I'm definitely going to be on tenterhooks for season two, but man that was such a rad way to end the series (I'm a hideous tease I know). 😏
Another reason to sway you, the reader, to watch this TV show,  is KJ Apa and Cole Sprouse. That's right. Cole Sprouse. You know, the kid from Zack and Cody? Well he's back and better than ever in Riverdale as Jughead Jones *SWOOOOOOON* (damn he got hotter). Tune in to watch him and KJ Apa's (the most beautiful human on earth maybe?) onscreen bromance. So if you're missing eye-candy Damon Salvatore, fear not as Archie Andrews (KJ Apa) will fill his shoes with his sweet charm and ginger locks. 😍😍😍😍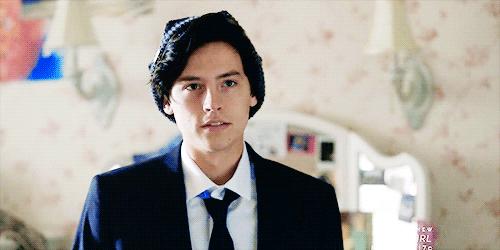 Riverdale will definitely surprise you; trust me, even my review isn't going to assist you here. 100% would recommend this show. My only advice is, wait to judge if you will continue the series until after episode four. If it's not doing it for you after episode four, it might not be for you. And hey, you've got plenty of time to binge watch season one, season two might be a while! ⏰
SEASON FINALE
All I can ask is WHYYY??? Why him?? Couldn't they end it on a happy note? Is Riverdale not innocent anymore? Are all my beloved characters going to end up murdered? 😭
All this being said, I enjoyed watching the show. Every episode proved that I didn't know a character even when I thought it couldn't get more complicated. Cannot wait for Season Two. Till then maybe I can re-watch some old episode again and again because I have found my new obsession. 👅
I hope you guys enjoyed this blog post, don't forget to like and follow my blog! 💗
Have you seen Riverdale? If so, what's your opinion? Talk to me in the comments below! 🥰
DISCLAIMER
This blog is NOT sponsored and all opinions are my own.