HELLO MY LOVELIES!
Hi everyone, I hope you are all hanging in there and keeping well! I am going stir crazy. I've always been a busy bee flitting from here to there, but with the monster that is COVID-19, many of us are in quarantine or at least cutting back from our normal routine! Adjusting to a new way of life is tough as is, and the current circumstances are anything but grand. I've been struggling with a lot of fear and anxiety but I am working on channeling that energy into healthy coping mechanisms!
We are about a week into social distancing / isolating / quarantining ourselves here in the UK and although it's been tough I wanted to share how I've been managing! Now, more than ever, your mindset is SO important. Life is 10% what happens and 90% how you react to it – always remember that! You have to keep positive and take whatever good you can from this situation. Think of this time as a way to pause and do all those things you never have time to do! Use it to better yourself so when it's over you will be ready to get back to normality as a better version of yourself!
Whether you are:
Social Distancing: people who have not been exposed to the virus
Quarantining: people who have been exposed to the virus and don't have symptoms
Self-Isolating: people who think they have the virus or have tested positive for the virus
To help you keep busy and nurture your mental health, here are some ways to help you pass this time of social distancing / isolation / quarantine!
#1: Create a Routine / Schedule
---
I live in a routine, and when I'm out of that routine, it can affect my mental health pretty badly. So when I found out that I'll be working from home, the first thing I NEEDED to do was create a routine! To make this change easier for me, I spent a lot of time over the weekend creating one on Canva and I've even printed it out to put up in my room!
#2: Limit Watching / Reading the News
---
Limit the amount of time you spend reading or watching the news, it can make you feel pretty anxious! I've really tried to limit how much I read/watch the news because it started to affect me mentally, knowing that I have asthma and fall into the vulnerable category is already scary enough, but to then read the death toll and how 'healthy' people are dying makes my mind overthink and spiral out of control! Don't get me wrong, we should know how the virus can attack anyone who is vulnerable or not, but getting reminded of it daily can really hit you hard! Perhaps decide on a specific time to check in with the news, like maybe just the morning, afternoon and evenings? There is a lot of misinformation swirling around, so you should stay informed by sticking to trusted sources of information such as government and NHS websites!
#3: Work Out
---
I've been trying to do some sort of workout every day and although it's not easy, I'm grateful for them as they definitely make me feel better! I prefer to go on runs/walks and do basic exercises at home, and these can be found online! Having only recently joined the gym, I was gutted that I just got into a routine, and now I'm having to somehow move my 'gym routine' to my home! However this is a great way to still stay fit – that way when I'm back at the gym, I won't feel like I've lost progress! With gyms being closed, fitness programs and small businesses are taking full advantage of helping out by providing free workout routines/videos – there are plenty of videos on YouTube! 
#4: Wake up & Get Ready
---
Even if you don't have to go into work or class, stick to your schedule by waking up at your usual hour, make breakfast, dress up and get ready! Dressing up as if I'm about to go out helps me be productive! Being in pyjamas all day is comfortable for a few hours but I find myself too comfortable and not getting anything done!
#5: Binge Watch
---
It is finally the time to do some Netflix and chill without taking care of the time! Set up a comfy space where you can binge-watch your favourite or most awaited series/movies.
Here are a few TV shows and movies on my list:
#6: Clean / De-Clutter / Organise
---
And by that I mean seriously clean, de-clutter and organise, be ruthless! Nothing is more satisfying than getting rid of things you don't need and this really is the perfect time to dive into it! I am a major hoarder – I had to get my brother to throw things in the bin for me because I just physically couldn't do it haha! But my room now feels a lot more organised and de-cluttered! I have a few things that I'll be giving to charity when things go back to normal, but that's another thing ticked off my to-do list!
#7: Self-Care
---
Get in some self care! When our brains are dominated by fear, self-care is the last thing on our mind; survival is what's consuming us! But the truth is our bodies and minds need grace and kindness during this global pandemic. Pull out a bottle of nail polish and give yourself a mani-pedi. You know all those face & hairs masks stored under your sink – use them! It's the perfect time to pop on a mask while you are working from home!
Another important self-care tip is to make sure you are getting your daily water intake! Self-care isn't always about face masks and painting your nails, it's also about looking after your health – whether that's physical, emotional or mental!  
#8: Colour
---
So I know you're probably thinking "why in the world would I colour??" Colouring can be so fun and peaceful! If you didn't know, there are adult colouring books out there and different kinds of them! Many people colour as a form of mindfulness, or even call it Art Therapy! There's such a variety out there and you can get one that fits your personality or the mood you're in as well!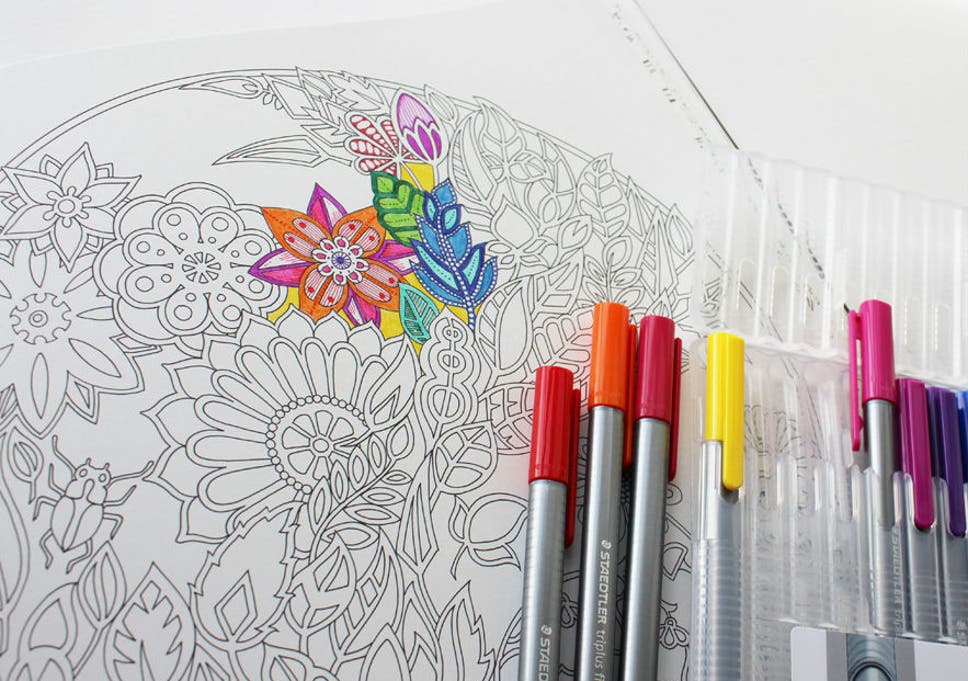 #9: Breathe
---
One of the most practical pieces of advice that anyone has ever given me is the power of breathing. When I get anxious, I feel like I can't breathe, but there are so many fabulous breathing techniques that allow us to regain control of our bodies! Along with just taking 60 seconds to take deep, hearty breaths, check out Breethe, an app with guided breathing and meditation!
#10: Practice A New Make Up Look
---
Ever wanted to get creative with your makeup but only ever have that thought 15 minutes before you're about to hit up the town? Girl, same! Spend some time binging makeup videos on YouTube to learn new techniques and practice them — without the pressure of needing it to look good on the first try! I like watching Jaclyn Hill when I need some beauty inspo!
#11: Be Thankful
---
"There is literally nothing to look forward to, I won't even get to celebrate my birthday!" I thought in my head a couple nights ago. This pandemic has hit me on a new level of emotional low, and that's okay! But it's not a good place to stay for too long. Even when it feels like so much has been taken away from us, adopt a practice of gratitude! You can start by writing down 5 things you are thankful for right now! Mine are:
I'm thankful to be alive and healthy!
I'm thankful for our amazing key workers and brill NHS staff!
I'm thankful to be living in a home with all the basic necessities I need!
I'm thankful for my friends/colleagues checking up on me!
I'm thankful to still have my jobs during this global pandemic!
#12: Pinterest Away
---
One way to escape stress — ahem, properly compartmentalise it is to spend some time on Pinterest! Find some new DIY crafts, plan a future vacation, get redecorating inspo, discover new life hacks. How can you be on Pinterest AND be sad??
I hope you guys enjoyed this blog post, don't forget to like and follow my blog! 💗
How are you coping with the monster that is COVID-19? Do you have any tips to share? Talk to me in the comments below! 🥰
DISCLAIMER
This blog is NOT sponsored and all opinions are my own.