HELLO MY LOVELIES!
I binged Never Have I Ever last week in literally a few hours #ProBinger and HAD to write this post!! If you haven't heard of 'Never Have I Ever', it's the new and hot TV show on Netflix that everyone's talking about! You can watch the trailer *here*!
It's about a girl called Devi Vishwakumar, an Indian-American teen who is getting over the loss of her father and her paralysation. The show is so Indian, and I can't begin to tell you how much I love it!
SYNOPSIS:
Never Have I Ever is a series about the life of a modern-day first-generation Indian American teenage girl, a highschool sophmore named Devi. She recently lost her father and was paralysed for a few months but is looking to 'start over' this year- but friends, school, and circumstances don't make it easy for her. The series is loosely inspired by Mindy Kaling, the director's, childhood.
SO.
I am OBSESSED with this show.
You don't often see an Indian lead, especially in a series watched by a younger audience, so having a TV show with an Indian lead is honestly a really nice change, and relatable! I feel like I really needed this show when I was younger, and I think it's giving the entertainment world A LOT more diversity.
There needs to be more diversity when it comes to films and TV shows, not just when it comes to what is ethically right, but also when it comes to what is interesting! My mum gets SO excited when she see an Indian actor/actress on TV on a British/American TV show that's predominately a white cast! People look for something different and this show really provides it! 
WHAT I LIKED ABOUT NEVER HAVE I EVER:
Devi not feeling Indian enough, and too Indian at the same time!

Her name not being whitewashed so it's easier for people to pronounce – URGH the amount of times my name has been mispronounced, even after correcting them!!
Devi being able to be a great student

AND

pay attention in school

AND

also likes boys

AND

fashion!
"I LOVED THIS SHOW BECAUSE IT MADE ME FEEL SEEN."
Let me explain.
Indians, let alone Indian-Americans and British Asians, get basically no representation in mainstream media.
Mindy Kaling, the director and basically only Indian-American woman who is successful in Hollywood, gets that though! She ended up crafting a beautiful, funny story about teens coming-of-age and of grief, and I loved it!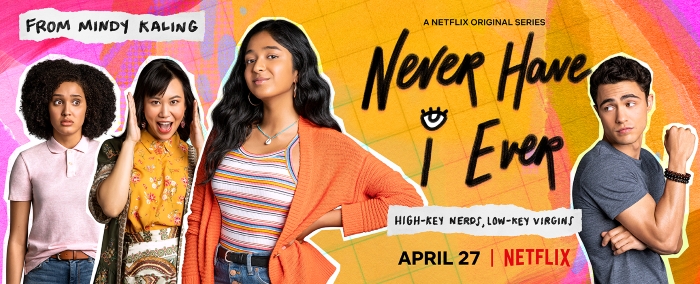 Also, there's more.
I could  ACTUALLY 👏🏽  RELATE 👏🏽  TO 👏🏽  DEVI! 👏🏽  And that's huge because I usually can't! All of the characters are gorgeous white girls with a family that's just completely different from anything I've grown up with! Their problems are boys and kissing, and although I've experienced that too and Devi's story is also about that, it's also a lot more!
Devi's story explores what it means to have cultural diaspora and feel disconnected from your culture, it explores traditional Indian holidays and events as well as 'normal' teen things!
I'm just so thrilled that people who look like me are finally represented in the media, Devi just looks so Indian! There's no way you can mistake her for being white or anything other than South Asian and I'm living for it!
The fact that the casting directors were unafraid to cast an actual Indian girl – with crazy eyebrows like most of us have, thick black hair, arm hair which we all hate, and brown skin the same shade as mine makes me so happy.
Devi dressing up in a half-sari for Ganesh Puja and praying to the Gods I pray to made me happy!
The two Bollywood songs that briefly played being songs I knew made me happy!
IS THIS HOW IT FEELS TO BE WHITE & WATCH A GREAT TV SHOW / MOVIE / READ A GREAT BOOK THAT'S AMAZING ON ITS OWN, BUT IS EVEN MORE AMAZING BECAUSE YOU CAN RELATE TO IT?
If so, I'm jealous. I'm also angry that we've been robbed of great content!
Also, please please please don't trivialise this! On behalf of so many people who have never seen themselves in anything mainstream, it IS a big deal to us. Most of us never realised that this is how it feels to be represented and see yourself on screen!
That's a serious tragedy and you can't deny that.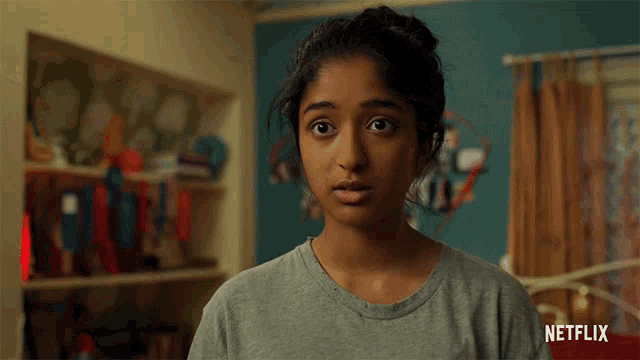 I'd also like to point out that Never Have I Ever has disappointed some Indian watchers because it wasn't everything they hoped for, and that's okay. Obviously, one good show isn't going to solve all the representation issues and India is a hugely diverse country (definitely more diverse than USA or Britain) – so one TV show isn't going to be able to capture everyone's experiences!
M point is that Never Have I Ever is flawed, yes, but it's a step in the right direction for Hollywood and it made me feel seen and valid!
Another important point of mine is that white people and people of colour should ALL push for more diversity in media because it really, really matters. I wish that previous generations could have grown up seeing people like them doing all kinds of cool stuff on TV, LIKE MYSELF! And although we haven't solved the representation crisis yet, I'm thankful for stories like these existing in my time NOW.
---
I hope you guys enjoyed this blog post, don't forget to like and follow my blog! 💗
Can you relate to everything I said in my post? Are you a person of colour, specifically an Indian or South Asian? Have you experienced cultural diaspora or not getting representation? Do you want to watch Never Have I Ever? Have you already watched it? If so, what did you think?
Talk to me in the comments below! 🥰
DISCLAIMER
This blog is NOT sponsored and all opinions are my own.